I'm so excited that Christmas is going to be here soon. It's my favorite time of the year for sure!! We spent Friday putting up the Christmas tree and decorations and of course pulling out some Christmas quilts. This is our living room…
I managed to get a few quilts on the long arm too. Eileen's quilt came out so nice with the fall colors and the Abundant Leaves pantograph. This was a joy to quilt!
And the blue and white quilt is on the long arm and nearly finished. This is being quilted with a pantograph called Lilac. I'm happy with the progress on it and I'll show more pictures next time when it's done.
Progress is happening on all fronts and I keep adding to my list of projects to which Greg laughs and says, "You really know how to pile it on."–yes, yes I do but I'm ok with that because I know it's passion and a desire to learn that's fueling it all. The list of handprojects is huge and I am thinking that I need to set myself up a schedule to work on them. I absolutely love knitting the socks on the loom and I'm almost done with the orangy colored pair. I find that I'm missing embroidery though and I've ordered a kit for myself for Christmas to get back into it. Lindsey reminds me daily that I haven't finished her crocheted afghan and that makes me a groan a bit. It's the least enticing project right now. LOL!
Amanda asked if I could make a quilt to donate to her sorority silent auction in the spring and we decided on a jelly roll race quilt made with the Kappa Delta colors of green and yellow. So I found this beautiful Moda jellyroll and it's coming out this month. I preordered it and I can't wait til it arrives.
My students are all keeping busy and purchasing fabric for new projects! They are a talented bunch and I am so looking forward to working with each of them on those projects. And of course, I'll share them here so you can see too.
Our family has a busy weekend with the annual Christmas on The Common parade and dance performance. I decided not to vend at the craft fair this year due to an additional Nutcracker rehearsal that Leah was involved in on the same day. I figured the logistics were too much to stick Greg with for the day and in the end, that rehearsal was canceled so it didn't really matter but I'm happy to have a year off! It will be fun to walk around and not worry about a table.
The Quilt Show Newsletter came this morning with this cute tutorial in it.  It's too complicated for me to do at the moment but I just adore the red and white and thought you might want to try it!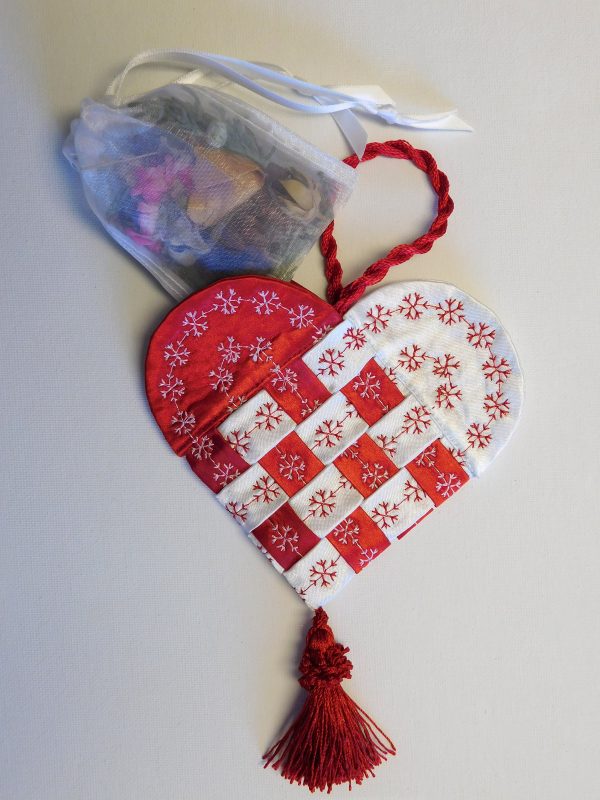 That's it for today! What are you all working on this week?
Sandi