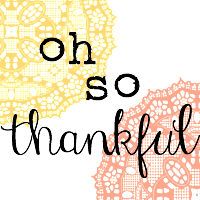 I start out each day catching up on all of my favorite blogs and I have come to love Thursdays on the Lovely Little Whimsy blog because Carina is always so thankful for everything in her life whether it is good or not so good. She always finds something to be thankful for and I love that. She invites her readers to join along and discover what truly matters to them and then post it to her blog as a link so readers can share the faith.
In that spirit, I will use Carina's button above and have Thankful Thursday posts. Please feel free to join me and link back to her blog or just leave me a comment and tell me what you are thankful for this week or today or this minute.
Today, I am thankful for my husband.  He makes me laugh, he supports me,  he supports our family in every way, he supports my little business, he sometimes makes me crazy, he loves me and I love him.
I am thankful that he gets up every morning  and works hard to support our family.  So many are out of work at this time and on cold, cold days when I know some may not have the means to heat their homes, I am doubly thankful for Greg's efforts.
He is a superstar to me.
What are you thankful for today?